Optimum Futurist Nepal celebrates NY 2020
Since the last New Year's Party was two years ago in 2017, we decided to welcome our new team with a party for 2019/2020. While our last one was at Fudo cafe, we wanted to provide a retreat to show our appreciation to every employee. Therefore for this new year, Optimum Futurist travelled to Green Valley Resort in Shivapuri, Kathmandu.
All of the team arrived by minibus at the resort on Friday 27th December, around 4 pm. Immediately after arrival, some tea and snacks, ice breaker activities kicked off. As partners and children were also present, everyone was made to integrate.
Introductory Game
First, the whole group was divided into teams of three to play a tower building game. The objective was to build a tower out of long cocktail sticks, with only sellotape or string. The tower had to be free-standing and only had 18 minutes to assemble. This game showed the true essence of teamwork as each group was put under pressure due to the sticks easily snapping. As soon as the final timer went off, everyone had to stand back from their model. In suspense, we awaited to see what each time had accomplished. Groups 1 and 3 towers fell drastically on the table, while group 2's stood up victoriously winning the challenge.
Immediately after this game, the atmosphere started to shift into a friendlier tone. We were about to play some games until more tantalising snacks arrived from fish, mushroom chilli, chicken, pakoras and other delights.
Rest of the evening
Throughout the evening, new games were played such as the pen in the bottle, find the mountain, song singing and movie name guessing. Tricky movie names were thrown back at forth to one another over the campfire. While playing games, chicken and mutton were barbequed in front of our eyes, satisfying our stomachs and salivating our mouths.
Roars of laughter, windups and dares occurred uniting the group together alongside a few new friendships formed. As if our bellies weren't full enough, we got informed our dinner was ready. So we moved up into the reception area to have a delicious buffet full of Nepali style food.
That evening, we ate so much food we could have used an excavator to get us out of the room. Following this, we returned to the campfire to play movie guessing games. Shekhar, Sanjay, Prashant, and Aadeep were leading from both teams. Without a shadow of a doubt, it indeed became competitive between those four.
The Employee of The Year
Sanchita received an award for being an employee of the year, with a plaque showing her appreciation and loyalty. After the award ceremony, the games kept on being played and the fire kept roaring until the early hours of the morning.
The Next Day
After all, finishing our breakfast around 9:30 am, we had some final group games to play for the rest of the morning. First was save your balloon, which involved people having balloons tied to their leg. The aim was to save your balloon and be the last one standing. This was a fiery competition to play as everyone was stamping popping each others. Until Saroz finally won, thanks to his long legs being an advantage.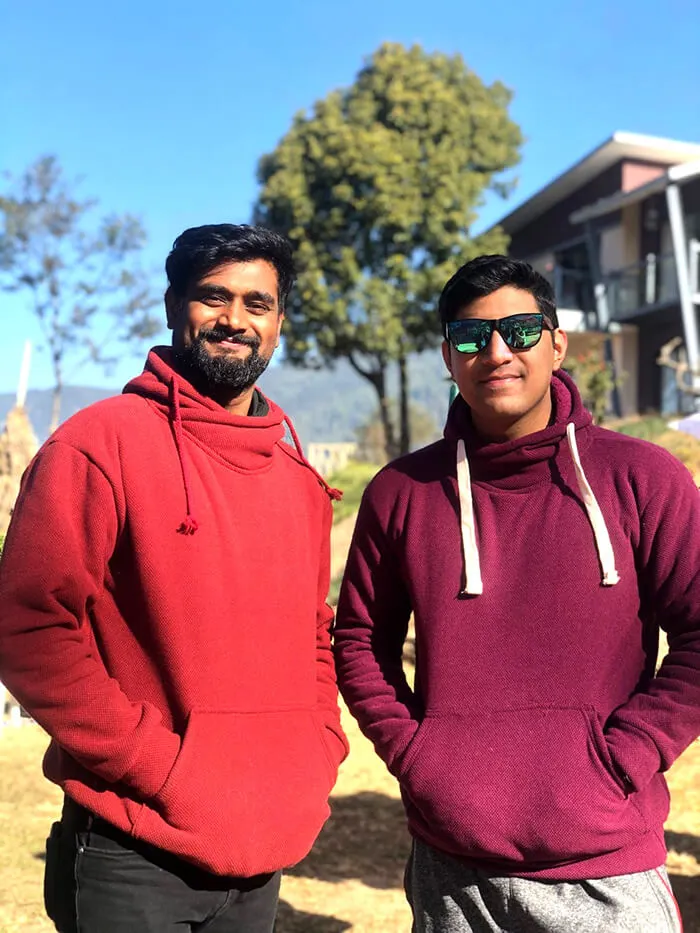 The final game after this was minefield, where people were put together in pairs. The contest aimed to navigate your blindfolded partner safely across an imaginary minefield of objects (potential mines). If the blindfolded person stood on it, they were out, however, the team that got to the end quickest won. After some hilarious attempts at teamwork, Sanjay and Prashant won.
Award Ceremony
A prize-giving ceremony was conducted to award all the winners. Champions picked a number which matched a prize, allocating gifts randomly and fairly. Prizes were given out such as hairdryers, wireless earphones, computer mouse, a smartwatch, a shaving kit and many other tech gadgets. This indeed elated the mood for the onwards journey home.
It was a success; our very first office retreat had generated lots of energy and enthusiasm. Not only did new staff, partners and children become closer. The atmosphere at Optimum Futurist the very next day and days following was magnetic. We're already looking forward to our next office trip away for 2020!